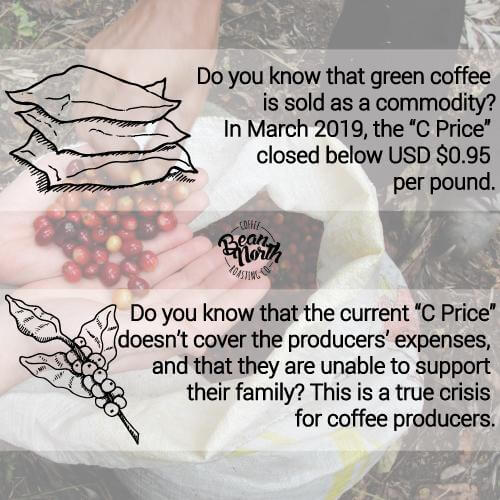 Owners Helen Voogd & Michael King: "
Improving the livelihood of small scale farmers was the inspiration to start Bean North Coffee Roasting in 1997 and still remains the core focus of our business today. One of the things we love 

most about roasting fair trade organic coffee is getting to know the farmers who grow our beautiful green coffee beans. We visit these communities annually to meet with producers and their families, and continue to be inspired by them. B

uilding long term relationships based on equality and fairness has been crucial to our success and the success and prosperity of the farmers and communities we purchase from. It's also one of the main reasons we are so excited about the 

Carbon, Climate & Coffee Initiative. This initiative

 helps farmers receive better value for the amazing work they do providing us with the incredible coffees we sell.

"
Read more about our coffee sourcing practices and how we do our best to make coffee-growing a sustainable and beneficial endeavour for farmer families and their communities.
This article writes in detail about the minimum price of $2.20 that Cooperative Coffees - our green coffee being co-op - established last year.
A quote from the Daily Coffee News article Coffee's Price Collapse: How Did We Get Here and What Can We Do? Rodolfo Peñalba, general manager at COMSA, Honduras: "It is hard to believe that the price of coffee barely reaches $1 per pound. Producers are worried, disappointed and frustrated, because with this price, their hopes die. They cannot cover their debts and, therefore, cannot obtain other debts to cover the urgent family needs and the maintenance expenses of the farms. Coffee represents a high risk in the New York stock market, the main market for Arabica. No producer can operate with current prices, as this will cause serious difficulties in the sustainability of their farms."
This excerpt comes from the Daily Coffee News article Coffee Producers Demand Immediate Action Amidst Price Crisis:

The groups are specifically addressing the ICE futures price for commodity coffee — often called the "C Price" — which is widely used as a price discovery and reference tool in the creation of futures contracts for transactions of green coffee. Throughout the coffee sector, the C price serves as a benchmark that affects prices at virtually all levels of the coffee trade. "Producing countries and other players are concerned that today's 'C' contract is not the right price discovery mechanism and that by allowing the impoverishment of producers, the coffee industry is compromising its own future," the consortium of producer groups wrote in yesterday's declaration.